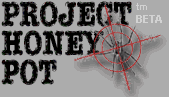 Honeypot project have been around for a while and this is a way to detect and block all those spammers and spambots from harvesting email address from your site or blog. Well I guess this is important as a blogger and should aware of it, nevertheless we're not always hoping our akismet plugin to detect or block it do we? I do hate to see my akismet have block tons and tons of splog or spam blog. But Honeypot project give me the best protection for my blog and the beauty of this project is everybody is free to join and participate by installing the software and they will do the rest. Trust me it works hehe. If you don't want to put any code in it and just looking for a Honeypot project plugin, Stepien have done it for you. Just download it, upload to your wordpress plugin directory and then activate it. It's that simple. After that I can tell you that your akismet will never see any spam comment again. Well that's what I've experienced. But before you going to use the plugin, make sure you get the http:BL access key first.
Sphere: Related Content
This is the plugin that I have been looking for. A plugin directory for Wordpress and this is important for me to increase my PR and gain a lot of traffic. This plugin is called Wordpress Link Directory by eBrand Marketing. How to use it?
Well first download the plugin and extract the zip files on your computer.
After that upload everything to the server. I know this
sounds might be crazy but just trust me.
As you can see there's wp-admin folder contains a lot of
Link Directory files, just upload the files to your server and also the
plugin files. All of it will overwrite but not delete the original
files.
Then activate your plugin by going to plugin sections in
your Wordpress admin and click Activate. You're done.
You can go to http://www.YourSite.com/directory/ to watch the plugin in action.
There's one tip that is if you want to create a page on your blog linking to your directory section just use permalink and create a page called Directory. That's all. All that you have to do is create a category and add any site into it.
Sphere: Related Content